The President Desk
BCPS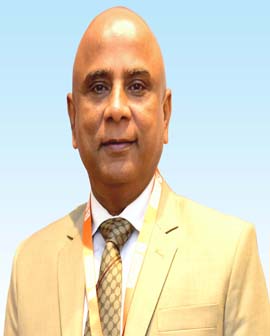 Professor Quazi Deen Mohammad, President
Dear Colleagues,
First it is my utmost honor to be elected as President of BCPS the leading and outstanding institute in Bangladesh for all physicians and surgeons. Equally, I am so much grateful to all of you for your continuous support and inspiration. It is great to start our journey from 06/04/2019 when I took the Chair. As I began my two year tenure as President it is my goal to take necessary steps helping BCPS to reach the presetting international standard.
Since its inception in 1972 by our father of the nation Bangabandhu Sheikh Mujibur Rahman the college has been the pioneer in medical education, medical service and research by dint of its Novel work producing thousands of fellows and members in 48 disciplines, who are working at home and abroad with great reputation. Currently about 85% of facultiesin different medical college and institutional Fellows are members of the college e.g. contributing largely in teaching and patient care in this country.
Dear Fellows and members,
Your professionalism, diligence as well as dedication not only did your life up but also definitely given you the state of the art knowledge to take care and change many lives in rural and urban areas regardless of many constrain. Here BCPS is obviously a contributor.

The college is committed to look forward to be the countrie's best of the best teaching, learning, training, monitoring and diploma offering institute. From which the country will get prospective passionate physicians with quality, empathy and integrity giving all a moral learning "A good doctor treats the disease but a best doctor treats the patient". Each fellow is an Ambassador of the college so be proud and be careful in your legacy. Here I would like to advise our potential doctors to be a Fellow of BCPS and to be proud.

I am pleased to say that we are now in the International horizon where sky is not the limit. Your continuous effort to help change the position of the college has impressed other international colleges.

Our vision is to be a leader in producing need based competent post graduate medical professionals and to ensure excellence in health care. Our mission is long way to go together not compromising quality with the quantity in any circumstances.

I know what the fellows want I know what the fellows wanted to mean nothing more than to get standard training, to see college in the international level by quality and finally to be a competent Fellow.

I am immensely pleased to be able to state that we have started add on work towards that goal Like all journey we will never the less encounter bumps but we will successfully navigate to reach the destination.

Lets walk down the path together to achieve and maintain a level of excellence in terms of medical education and training for coming physicians. This has uplifted our successful predisors and current trainers who deserve special appreciation from all corners.

Examination in BCPS is a proud ornament which actually to be honest has brought the college in a position which is an example for the others. I would like to congratulate all those involved in the process. We are honoured to get many foreign faculties as examiner each year to assess our candidates and thiscertainly reflect the quality and standard of examination that the college owns.

I would like to take this opportunity to express gratitude for foreign faculties for continued help and support. Your invaluable contribution to the college and literally to the country at large is greatly appreciated.

My heartfelt welcome to the teachers and faculty who are guided by a passion for helping you to realize to achieve a degree of distinction and brilliance the FCPS from the prestigious institution like BCPS.

I sincerely thank Ministry of Health & Family welfare and Finance Ministry for staying with us and in fact without their help the college could not attain this scale of service and standard.

Keep up your love responsibility and contribution for the college.

With best wishes to you all and upcoming fruitful year of BCPS.

Long live BCPS.